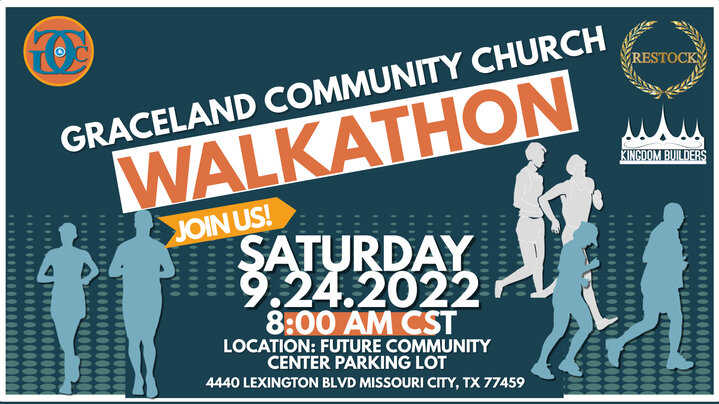 At Graceland Community Church we are Restoking every Area, Agenda, and Aisle of our lives! Part of that Restock includes expanding our ministry and community outreach.
Join us for our annual Walk-A-Thon to "RESTOCK" every Area, Agenda, and Aisle of our lives! This year's Walk-a-thon will be held on Saturday September 24, 2022 in Missouri City, Texas. The focus is preparation for our new Community Center development, which will provide an assisted living facility for seniors, a gym, bank, insurance company, and educational programs for the youth and young adults in Fort Bend County & surrounding areas.
Registration will begin at 7:30 am and the Walk will start at 8:00am. We will walk the grounds where the Community Center will stand.
Drinks, snacks, and entertainment will be provided, along with lots of fun prizes.
Our Goal is to reach $10,000.00 and ask each walker to pledge $25.00. If you would like to sponsor a walker, you can do so in any amount. Checks or money orders can be made out to: Graceland Community Church- In the Memo write: Walkathon. Please join us as we build our Community Center